As my list of food trucks grows, it becomes harder for you, as a food truck owner, to stand out from the crowd.
The basic listing of your food truck is free and always will be. My objective is to list ALL the food trucks in New Zealand.
If you'd like to draw more attention to your listing on this website, you have 4 options for the display of your listing and 2 options to determine your ranking.
---
1. Free Listing
Includes:
Examples:

---
2. Detailed Listing "Silver"
Everything above plus
A short sentence describing the food you serve
Your name (so they know who the boss is)
Your mobile number (so it's easy to book catering/events with you)
Your email address (so it's easy to make an enquiry after hours)
Link to your Twitter (so they know what you're thinking)
Link to your Instagram (so they can see your food and events)
Cost: $50/year. Order Now
Examples:

---
3. Top-Of-The-List "Gold"
Everything above (worth $50) plus
A top position in the list for 1 year
Cost:

#1 for 1 year: $90
#2 for 1 year: $80
#3 for 1 year: $70
Next available position for 1 year: $60
Examples:

---
4. Visual Listing
Choose any package above and add…
A hero image of your Food Truck for 1 year (really makes you stand out)
Small: 465px x 100px. Cost: $70/year. Order Now

Large: 465px x 200px. Cost: $140/year. Order Now

Example: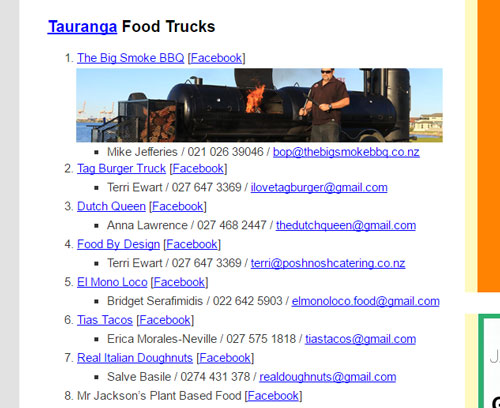 ---
Order Now